*omg
This is a recipe that was inspired by eating a Dutch apple pie that I didn't like so much and immediately thereafter eating an apple crisp that I enjoyed very, very much. Oh YUM. So, I challenged myself. Try topping that! And, I did, with the apple crisp topping subbed for the one called for in the Dutch apple pie recipe.
Yeah, waaayyy better. Here goes.
Step ONE: Make the apple crisp topping (you can also double this and make a delightful fruit crisp…any fruit will do). Okay, here's the list:
1 cup rolled oats
½ cup all-purpose flour
½ cup brown sugar
½ cup cold butter
1 tablespoon ground cinnamon
Mix oats, flour, brown sugar, and cinnamon together, then "cut" in the cold butter – either cut into cubes and mixed in by hand (my way) or using a pastry cutter (the pastry chef's way) until crumbly. Set this aside for a bit.
The rest of the ingredients: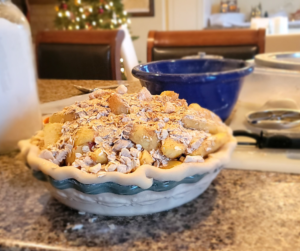 Two ready-to-bake pie crusts
About six to eight apples
About ¼ cup more of oats
About 1 teaspoon more of cinnamon
About 2 tablespoons of unrefined sugar
A little flour to throw down before you lay out your pie crusts and roll them with the rolling pin.
And some spray oil (or butter) to spray on the pie pan before you lay your pie crust in it.
Optional but encouraged: pie crust shield
Step TWO: Peel six to eight apples and then cut them into wedges. I "cheat" by using an apple slicer and it works great. Why do anything fancier? Tastes great and it's easy.
Step THREE: Roll out your pie crust, spray the pie pan and then form the crust to the pie pan. I am a "cheater" and use a pre-made pie crust. CAUTION: I find that many of them are too thin and so I always use BOTH.
I use a rolling pin and roll them out a little, so that I can then fold it over at the edge. It makes a nice big crust and every pie needs a nice, big crust, for goodness sakes!
Step THREE and a Half: I check to make sure I have a nice heaping mound of sliced apples in the pie. If not, slice another apple. You want a mini-mountain.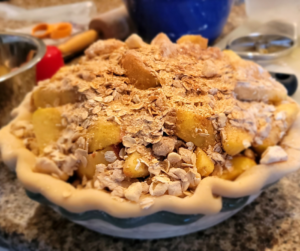 At this point, pre-heat your oven to 375°.
Step FOUR: Toss a little of the crisp mixture with the apples in a bowl so they're covered a bit. Then put a bit of crisp in the bottom of the pie, layer in the apples (make 'em pretty) and gently pour the crisp mixture over the top of the mini mountain of apples. Make sure there are bits-o-butter at the top of that baby! It melts down and over the apples.
Step FIVE: Sprinkle the top of the pie with some extra oats, some cinnamon, and some unrefined sugar. Yes, it's pretty. Lay the pie crust shield on the pie, covering the edge. (You're welcome!)
Step SIX: Put the pie on a cookie sheet and put that baby in the oven. Bake with the shield for about 40 minutes. Then remove the shield and bake about 15-20 minutes longer.
Remove and cool and then enjoy!